The Porpoise Is Waiting
The Chill Room, 2 March 2012, at 11pm PST on killradio.org
128k, 130 minutes, taking the Monkees seriously
I'm a lifetime Monkees fan, I admit it. I have thought about how to approach a Chill Room special on the Pre-Fab Four for over a decade, and not done so because they are a nostalgia act and their music has always been given short shift due to their origins. But now with the passing of David Jones on 29 February, it's time to do it.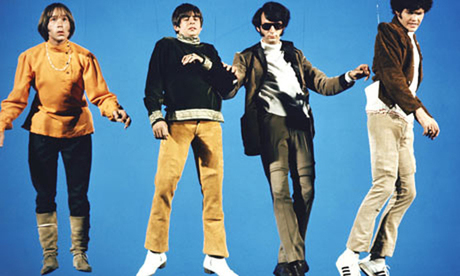 This is not a tribute to Davy Jones but to the whole band, and to the fact that these guys took a huge pop audience into surrealistic and somewhat subversive worlds without any shame. It saddens me to read that Davy was unhappy with HEAD, which is one of the great late 60s "head" movies (it really IS a movie, not an expanded TV episode). So tonight, I go through the Monkees' great early pop music history, and finally I get to do the psychedelic collage I have always felt this music deserved.
The Monkees: Mike Nesmith, Peter Tork, Davy Jones and Micky Dolenz. All material (except for the song Girl) comes from the first five Monkees albums 1966-1968, additional material from Rhino sessions and early unreleased material, the movie HEAD, and the TV special 33-1/3 Revolutions Per Monkee. Set list: Davy Jones-Girl (from The Brady Bunch Movie 1995, recorded 7/94) / I Wanna Be Free (Boyce & Hart track with Micky and Davy vocals) / Last Train to Clarksville / Take a Giant Step / Saturday's Child / Papa Gene's Blues / She / Mary, Mary / (I'm Not Your) Steppin' Stone (from 7") / I'm a Believer (from 7") / She Hangs Out (from Canadian 7" 1967) / Valleri (first version 1966) / The Girl I Knew Somewhere (tracking session) / The Girl I Knew Somewhere (finished) / You Told Me / Forget That Girl (rough vocal overdub session) / Randy Scouse Git (aka Alternate Title) / Salesman / Love Is Only Sleeping / Cuddly Toy / Pleasant Valley Sunday / Don't Call on Me / Psychic Monkees Psychedelia: Words (10/66 first version) / Daily Nightly / Tapioca Tundra (from 7") / Star Collector / Diego Ditty (from HEAD) / The Porpoise Song (from 7") / As We Go Along / Auntie's Municipal Court / Listen to the Band (climactic freakout from 33-1/3 Revolutions Per Monkee TV special) / Davy, Frank Zappa as the Critic, and cow (from HEAD) / Guru Scene (from HEAD) / Writing Wrongs / Can You Dig It? (from HEAD and written by Peter Tork) / Diego Ditty (again)
A grateful thank you to the memory of David Jones and to the Monkees, and to Andrew Sandoval and the people at Rhino Records. Thanks to my listeners, including both Monkee virgins and longtime maniacs. Also to killradio and to radio4all.net. Comments dutifully requested.
Fine man, crazy man, he can't see the sound of the sunset, the sound of the sea. Why do the people walk away from me? Nobody here can see that we are you, we are you.
blog comments powered by disqus

Disqus