The Chill Room, 6 April 2012 0100 PST, on killradio.org
160k, 82 minutes, cinematic purgatory
In which I mash together four different horror movie soundtracks, two almost complete and two partial, letting oblique connections fire like synapses. Like standing in the middle of a bridge over an endless void, then lighting both ends on fire, pin point precision and superb music choice, pulsating into a resonating culture that even the most surface listener can enjoy. Is this show about the ascension or descension of man, or both?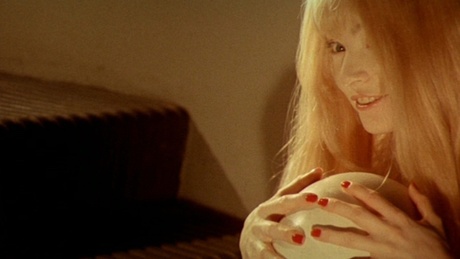 Set list (overlapping and incomplete):
Film soundtracks and dialogues:
Videodrome (Cronenberg 1982, with James Woods and Debbie Harry)
Toby Dammit (Fellini 1967, with Terence Stamp)
Scorpio Rising (Anger 1964)
Blue Velvet (Lynch 1987, with Dennis Hopper, Isabella Rossellini, Kyle McLachlan)
Music:
Ricky Nelson-Fools Rush In / Little Peggy March-Wind Up Doll / Twine-Asa Nisi Masa / Zoviet France-Moresco / Go Home Productions-Crazy Little Fool / Bobby Vinton-Blue Velvet / Bob and Bake-A Beatle Mash / Elvis Presley-Devil in Disguise / John Cage-Variations IV / Ray Charles-Ruby / Hafler Trio-That Which Preys, Emerging From The Dark / Ray Charles-Hit the Road, Jack / Martha and the Vandellas-Heatwave / The Crystals-He's A Rebel / Claudine Clark-Party Lights / Ken's Last Ever Radio Extravaganza-Beatles Chaos Fugue: Across the Universe / Kris Jensen-Torture / Merzbow-Another Crash for High Tide / Strawberry Fields Forever / Gene McDaniels-Point of No Return / Yesterday / Little Peggy March-I Will Follow Him / The Safaris-Wipeout / I'm Looking Through You / Roy Orbison-In Dreams / World Standard-The Lonely Driver / Nina Rota-Toby Dammit Theme
With thanks to Jason Berthume, my listeners, radio4all.net and killradio.org. Special thanks to Tim Lucas and Michael Weldon and to Ken's Last Ever Radio Extravaganza (http://lastever.org/). Comments requested.
I close my eyes, then I drift away into the magic night, I softly say a silent prayer like dreamers do, then I fall asleep to dream my dreams of you.