RADIO SENDIDDY 4/21/12 8pm PST 128kbs Stereo
On this Send we celebrate the release of DJ LimeGreen's debut album, "The Green Room", which dropped on 4/20/12. Joining us in the studio on this one is the man himself, DJ LimeGreen, and 2 of the MC's who put in work on this album: B.News, and A.K.M. of Cypha 7. DJ LImeGreen kicks things off by getting in the mix, and we then proceed to dig into tracks from "The Green Room" during which we get some nice interview action. Spliff Hemingway of The A.L.U.M.N.I. comes through the studio and joins the party, and hits us with one of his latest, after which B.News & A.K.M. hit us with some exclusives. Misleeding shows up just in time for the freestyle session, and afterwards sends one of her latest. DJ LImeGreen takes us out with an exclusive track from DJ Ero & DJ Yahtz's upcoming mixtape "La Conexion Vol III". Tune into Radio Sendiddy LIVE every Saturday night from 8pm-11pm PST, on L.A.'s own www.killradio.org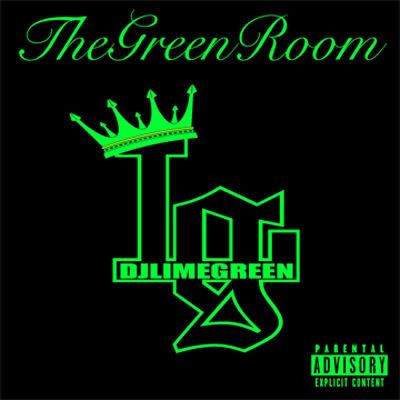 SETLIST:
INTRO:
"Big Fish" feat. B.News, XP (Rhyme Addicts), Isham aka Shampion (track 1 from "The Green Room")

SEND 1 (DJ LimeGreen in the mix):
Jungle Brothers "Behind The Bush"/ Kahlee/ Keith Murray "Hot To Def"/ King Tee feat. Ice Cube "Played Like A Piano"/ Masta Ace "Da Answer"/ Method Man & Redman "Maad Crew"/ Large Professor "Spacey"/ Cocoa Brovaz feat. Raekwon "Black Trump"/ Alkaholiks/ Defari/ Guilty Simpson "Strapped"/ Mr Brady "Left Overs"/ Hieroglyphics "No Nuts"/ Beatnuts/ Dr. Oop "Go To Work"/ Edan "Run That Shit"

SEND 2:
ALL TRACKS FROM DJ LIMEGREEN'S "THE GREEN ROOM"
"What You Doin Now" feat. B.News/ "Last Stand" feat. Soul King aka SK/ "Value$" feat. A.K.M./ "Gold & Silver" feat. B.News/ "Rewind Me Back" feat. Otherwize, Styliiztik Jones, Blame One/ "Sex, Drugs, Murder" feat. A.K.M./ "I Ain't Playin Witcha" feat. Soul King aka SK, Panama Red, Styliztik Jones, Born Allah/ "Higher Than High" feat. Stliztik Jones, Phil Da Agony/ "You Ain't Heard???" feat. B.News/ "Closer To The Ground" feat. YJ, Asterix, Tash, Styliztik Jones

SEND 3:
Spliff Hemingway, Styliztik Jones "Rap Addict" (Produced by Duke Westlake)/ B.News "New Soul" (Produced by RedRocks)/ A.K.M. "Track 5"/ A.K.M., Medusa, Panama Red, Tabernacle MC'z "Green Vapors"

SEND 4:
FREESTYLE SESSION

SEND 4.5:
Misdleeding "It's All Right"

CLOSURE:
Azma, Lexa, DJ LImeGreen "Same Cause" (from DJ Ero & DJ Yahtz's mixtape "La Conexion III")
RADIO SENDIDDY 2/25/12 8pm PST 128kbs Stereo
DJ BoB-E & Tucker Booth kick this one off with some tracks from the new LoCash Collective Mixtape "Hattori Hanzo Cuts". DJ LimeGreen comes through the Killradio studio with Spliff Hemingway, and after LimeGreen blows up the studio with a great mix, we talk with Spliff and listen to one of his latest, produced by Duke Westlake. We then sit and talk with female MC Misleeding, who is not only putting it down lyrically, but is also recording, editing, and producing all her own music. We spend some time sifting through her music while getting insight from the artist herself as to what inspires her music, and what these songs mean to her. Tune into Radio Sendiddy LIVE every Saturday night from 8pm-11pm PST on L.A.'s own www.killradio.org
SETLIST:
SEND 1:
P.Millz feat C.A. "Goin' Places"

Tracks from the LoCash Collective Mixtape "Hattori Hanzo Cuts":
M.A. Double "Cashed Out"/ Sci-Fi Delta-9 feat. J-Toth & Tucker Booth "When Light Meets Dark"/ Silly J-Skills "Don't Be Sleepin"/ SAV! "Cloud Cruisin"/ Hearz Kra-Z "Overload"

Intellect MC "Stand Tall"/ Tucker Booth "17"/ Tucker Booth feat. Huggie Boy "Placing Call Options"

SEND 2:
DJ LimeGreen In The Mix
Sick Jacken Cynic, Ya Boy "Heat"/ Psycho Les "SupaSOul"/ Notorious BIG "Kick In The Door"/ Havoc "Get Off My Dick"/ Large Pro "In The Ghetto"/ No ID "Real Weight"/ The Alkaholiks "Cant Tell Me Shit"/ Cocoa Brovaz ft Raekwon "Black Trump"/ DJ LimeGreen ft. B.News >Untitled From Green Room album/ Evidence "Down In NY City"/ Nas "Halftime"/ Tash >Unreleased/ D'Angelo "Devils Pie"/ A Tribe Called Quest "Keep It Moving"/ Visionaries "Sight For Sore Eyes"/ GangStarr "Work"/ HieroGlyphics "At The Helm"/ Edan "Run That Shit"/ GhostFace "Cobra Clutch"/ Nas "Get Down"/ Rakim "In The Ghetto"/ Tash ft J-Ro "Right Or Wrong"/ Azma Instigater "Shine"/ Grand Puba "I Like It"

Spliff Hemingway "Buddha Heads" produced by Duke Westlake

DJ LimeGreen "Big Fish"

SEND 3:
Interview and tracks from Misleeding:
"Fucked In The Head"/ Insomnia Interlude"/ "Fuck Everybody Do You"/ "Rode I Chose"/ "Honest Confession"/ "Stolen In-A-Sense"/ "Soulcry"/ "Let Go"/ "Farewell To Arms"/ "Lyrical Insanity"