The Chill Room, 23 March 2012, at 11:00pm PST on killradio.org
128k, 77 minutes, deep listening to the Temptations, 1964-1972
The first Motown (Tamla) music to win a Grammy, the Temptations' story is epic and continues from the 50s to today. Tonight I play through the major singles of the hit period and concentrate on the Psychedelic Soul days of Norman Whitfield. Hearing all this terrific music at once is a learning curve of social growth, and it packs a mighty melodic and harmonic wallop.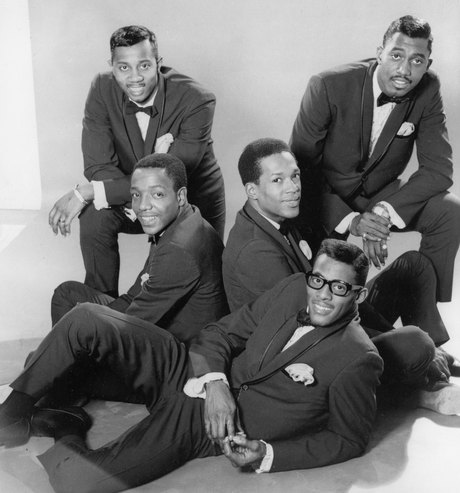 Set list: All music by The Temptations. Take A Stroll Thru Your Mind (pro-marijuana album track from Psychedelic Shack) / The Way You Do the Things You Do / My Girl / Ain't Too Proud to Beg / (I Know) I'm Losing You / You're My Everything / I Wish It Would Rain / I'm Gonna Make You Love Me (with Diana Ross and the Supremes) / Cloud Nine / Runaway Child, Running Wild / I Can't Get Next to You / Psychedelic Shack (album version) / Ball of Confusion / Just My Imagination / Papa Was a Rolling Stone (album version)
The photo shows (back row) Melvin Franklin, Otis Williams, (middle row) Paul Williams, Eddie Kendricks, (front) David Ruffin, the mid-60s classic 5 Temptations.
The closer you come to personal reality, a wider larger audience is touched. With thanks to my listeners, Randy Haynes, WIRL radio in Peoria, the Midwest and central Illinois for giving me the space to open up, to killradio and radio4all.net. Comments requested.
Music so high you can't get over it, so love you can't get under it.