DMR 04 11 13 playlist
Secret Chiefs 3 "The 4 (The Great Israqi Sun)" (show theme song) from the cd "Book of Horizons" (Web of Mimicry)
live recording and interview excerpt of Koonda Holaa live at The Handbag Factory, Los Angeles, 04.05.13
live set and interview with UEM (Urban Electronic Music)
UEM - "Organon the Instrument", "Sonic Train", "Who What Where When", "Price of Admission" and "Breakfast at Dennys" from cd (unreleased)
live recording of Amps for Christ - from The Handbag Factory, Los Angeles, 04.05.13
live set from Josh Boyd 3
three tracks from "Music of Afghanistan"
The Chill Room, 31 December 2011, 0100 PST on killradio.org
128k, 2 hours, submersion and release
As we pass into a new year, we look ahead but that means we also reflect the past. Tonight's collage is of the movement from dark to light, displaying the violence of history, but streams as well with the minute particulars of art and how we read culture, and who we trust. This program takes its time but changes constantly, just like we all should.
Ingredients in the collage (incomplete and overlapping): Dead Boys Can't Fly soundtrack, 1992 film by Howard Winters, written by Anne Wolff, with David John, Brad Friedman, Jason Stein, and others (including your dj), played throughout first 95 minutes / Iannis Xenakis-S709 / Bernard Parmigiani-Violostries / Matmos-Supreme Balloon / Neil Young-Tell Me Why / Lainie Kazan-An Angel Died (Traktor Remix) / The Devils, a 1971 film by Ken Russell, with Oliver Reed and Georgina Hale / The Beatles-Norwegian Wood (chilled) / KicksnLicks-Florence and the Machine / Buster Keaton's Walk, a reading by Tom Zanarini, Beth Escott, and your dj, recorded 30 December 1982 in NYC / The Fireman-Rushes / Eyeless in Gaza-Three Kittens / Phil Ochs-Pretty Smart on My Part (for the record, the FBI took this song seriously as a threat against Nixon) / Can-Future Days / The Stooges-Dirt / Led Zeppelin-In the Light / Maelstrom Percussion Ensemble-Imaginary Landscape No. 4 (John Cage) / Burial Four Tet-Ego / The Doors-Maggie McGill (live in Philadelphia 5 May 1970) / Nils From-Old Thought / Kraftwerk-Stratovarius / The Devils cross cut scene with Oliver Reed, Christopher Logue and Graham Armitage / Those Beasleys-Double Dose / The Beatles-Everything at Once
With thanks to David Austin for reminding me of Dead Boyz, to Thomas Ferranti (and Wendy!) and to Those Beasleys (http://thosebeasleys.bandcamp.com/album/double-dose), to Jerrod of KicksnLicks (http://knldub.com/), to my old friends Tom Zanarini and Beth Escott Newcomer, to wfmu.org (my ultimate source), to my live listeners (who give me focus), to killradio.org and radio4all.net. Comments requested. Change is good.
But sometime later when I feel a little straighter, I will come across a stranger who'll remind me of the danger, and then I'll run him over. Pretty smart on my part, find my way home in the dark.
over 100 Chill Rooms available here
Radio Sendiddy 8/6/2011 8pm PST 128kbs Stereo
On this send DJ BoB-E is joined again in the Killradio studio by 2011 S.L.U.M. Fest Battle EMCEE Champion Tucker Booth, PR Director for The Frozen Food Section. We spend the evening serving up some hot Frozen Food Entrees from Tucker Booth, Serengeti, & Jonathan Toth From Hoth. Tucker throws down a dope freestyle when BoB-E hits him with a curveball, and we discuss multiple topics throughout the show.
SETLIST:
Intro: Star Wars Theme (Disco Mix)
Beatrock Music Set: Fatgums & Bambu "Strapped" (Fatgums Remix)/ Power Struggle "What Goes Up"/ Shining Sons "Beatrock Sweater"
From The "Men With Beards" LP, Tucker Booth:
"Nature Boy" feat. News/ "Paul Bunyan" feat. J-Toth
From "Hungry Man Dinners:
Tucker Booth feat Kelly "Rezelection"/ Tucker Booth feat. J-Toth "Bum-Rap"/ Tucker Booth "Patty Cake"/ Tucker Booth "TDB is Underated"
Mystik Journeyman "The Odyssey"/ Rakim "The Saga Begins"/ Reks "25th Hour"/ 7L & Esoteric feat. Celph Titled & Apathy "Demigodz Public Execution Remix
Theme From "Three's Company"
From The "Noodle-Arm Whimsy" LP, Serengeti:

"Mad Whimsy" feat DJ Crucial/ "Pilates"/ "Breakfast Of Champions" feat. Tucker Booth, Jake Rockwell, & J-Toth
Necro "I Need Drugs"
Freestyle Beard
Das EFX "They Want FX" (Remix)/ House Of Pain "Jump Around" (Remix)/ EPMD "So Watcha Sayin"
From "The Lovecycle" LP, Jonathan Toth From Hoth:

"Do U Wanna B My Grrlfriend?" feat. Christy Montana/ "Ghostwirl" feat. MF Doom/ "I 4Give U 4 The Truth" feat. Serengeti & Hi-Fidel
The Beastie Boys "High Plains Drifter"
From The "Sick Boys" LP, Jonathan Livingston Crucial (DJ Crucial & Jonathan Toth From Hoth):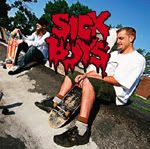 "Mama Got Herself A Little Sick Boy"/ "California" feat. Blaine Zapain/ "Trick Tips" feat. Tucker Booth, Kama, & Black Patrick/ "Member That"
KRS-One "Hip Hop vs. Rap"/ Sublime "KRS-One"
Underground Hip Hop
The New Math
David Liebe Hart's music can be listened to and purchased at davidandadam.bandcamp.com
Lost Boy ? is preparing for an East Coast / Midwest / Canada tour with Twin Sister this month - the dates are here
You can find their music at lostboy.bandcamp.com
00:00 to 00:15 – I dj
1. Mountain Bus – "Hexahedron" – Sundance (Good Records)
2. Ernan Roch – "Round Round" - Le Onda Pesada De Ernan Roch Con Las Voces Frescas (Onda Records)
3. Beto Guedes, Danilo Caymmi, Novelli & Toninho Horta – "Caso Voce Queira Saber" – s/t 1973 (Odeon)
00:15 to 01:05 – Interview & live performance by David Liebe Hart
(in between)
4. Paulo Bagunça e a Tropa Maldi – "Tramba" – s/t 1974 (Continental)
01:05 to 01:35 – Phone interview with Lost Boy ?
01:35 to 02:00 – Gary dj's
(going out)
11. Eddie Callahan – "Santa Cruz Mountains" – False Ego (Ocean)
"A variety of music from the Roger Moore as Bond years, including psychedelic rock, avant-garde and early electronic, and less heard pop and dance music"
Tuesdays from 4-6pm PDT on killradio.org