Radio Sendiddy 11/17/12 8pm PST 128kbs Stereo
On this Send we welcome Inasoulbianz Crew members DJ Earl-E and MC Prose back to the KiLLRadio studio, along with their partner EQ. Right before we go on air, MassKonfusion's Macbook Pro goes into "Kernel Panic" mode, resulting in an all vinyl opening Send from MassKonfusion. DJ BoB-E's up next on this one with a New Jointz Segment. We then kick off the guest segment of the show with a mix from DJ Earl-E, followed up by a freestyle session with Prose and MassKonfusion. DJ Earl-E and Prose send an in-studio live performance, and we get into some interview talk mixed in with some guest tracks. Tune into Radio Sendiddy LIVE every Saturday night from 8pm-11pm PST on the world's most dangerous station, L.A.'s own www.killradio.org
SETLIST:

SEND 1 (MassKonfusion Vinyl Send):
The Beatnuts "Get Funky"/ Organized Konfusion "Chuck Cheese"/ Main Flow feat. Talib Kweli "Hip Hop Worth Dying For"/ Big L feat. Stan Spit, A.G. & Miss Jones "Holdin' It Down"/ DJ Honda feat. Mos Def "Travelin' Man"/ Common "6th Sense"/ Kool Keith "Get Off My Elevator"/ DJ Revolution feat. Guilty Simpson & Royce 5'9'' "Do Your Thing"/ Dilated Peoples "Work The Angles"/ Dres "Pardon Me While I Come Back"/ Jurassic 5 "One Of Them"/ Beastie Boys "Intergalatic (Colleone/ Webb Remix)"/ Queen Latifah "Ladies First"/ Just Dave- Remix "South Paw Style"

SEND 2 (New Joints w/ DJ BoB-E):
The Who Dats "Suped Up"/ Apollo Brown & Guilty Simpson "Reputation"/ Apollo Brown & Guilty Simpson feat. Torae "Potatoes"/ Neek The Exotic feat. Bumpy Knuckles & Satchel Page "Get The City Warm"/ Neek The Exotic feat. Large Professor "Overseas With Officials"/ Oxygen "Gone Diggin' (Diggin' By Law Remix)"/ Journalist 103 "Rockstarz"/ MHz "Outta Room"/ 9th Wonder & Buckshot "Crazy"

SEND 3 (DJ Earl-E In The MIx):
Pete Rock "The Creator Remix" Instrumental/ Big Daddy Kane "Raw (Remix)"/ Divine Styler "Ain't Sayin Nothing (Remix)"/ Eric B & Rakim "I Know You Got Soul-dub"/ Ultramgnetic MC's "Ease Back"/ Chubb Rock "Ya Bad Chubbs"/ Average White Band "Pick Up The Pieces"/ A Tribe Called Quest "Jazz (Remix)"/ Al' Tariq "Think Not"/ Prose "Keep It Alive"/ Group Home "Supa Star (demo)"/ Nine "Whatcha Want (inst)"/ Common "Sun God"/ Y.E.S.K.I. "The Business"/ J Dilla "Time: The Donuts Of The Heart"/ Lauryn Hill "Lost Ones"/ Jeru The Damaja "D. Original"/ DJ Earl-E "We Ridin' (Radio Edit)"/ Keith Murray "The Most Beautifullest Thing (Remix)"/ GZA "Cold World"/ KRS-One "Step Into A World"/ Ultramagnetic MC's "Raise It Up"/ The Nonce "Eighty-Five"/ The Beatnuts "The Sureshot"/ EPMD "Crossover"

SEND 4:
FREESTYLE SESSION (Prose & MassKonfusion)/ Prose "Party At The End Of The World (Live In-Studio)"/ Vega$ Supreme "For The Haters"/ Inasoulbianz "One Word"/ Prose "What's In A Name"
Radio Sendiddy 9/29/12 11pm PST 128kbs Stereo
DJ Lord Ron sends the beats while Inasoulbianz Crewsadestarz Y.E.S.K.I. Anomiks, Prose, and Bin Grim light up the mics, along with Sendiddy's own MassKonfusion & Circus of the world famous Shapeshifters. This freestyle session follows DJ Lord Ron's 2nd mix on Part 1 of this podcast, and closes out this nights show.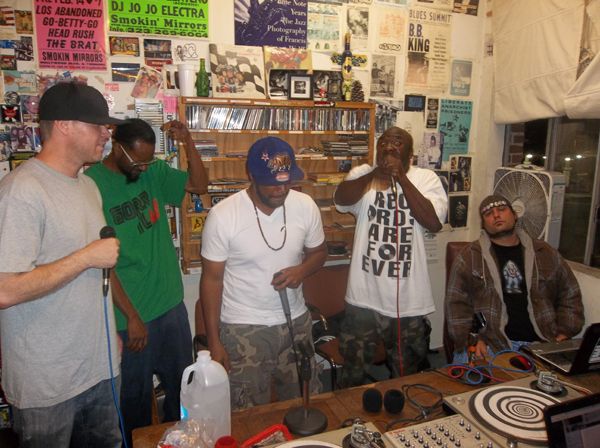 Radio Sendiddy 9/29/12 8pm PST 128kbs Stereo
Radio Sendiddy proudly welcomes DJ Lord Ron back to the KiLLRadio studio on this one. While making the rounds on his USA Tour, DJ Lord Ron comes through with Inasoulbianz Crewsadestarz members Y.E.S.K.I. Anomiks, Prose, Bin Grin, & DJ Earl-E, for an evening of mixing and freestyling. We kick things off with a few tracks for a short intro segment, and then get right in the mix with DJ Lord Ron. After Lord Ron gets things warmed up on the 1's and 2's, the mics get lit with the first freestyle segment. We then get into a couple tracks from DJ Savior Payne, followed by another mix by DJ Lord Ron. The second file for this podcast is the freestyle session that closes out the show, following DJ Lord Ron's second mix.
SETLIST:

SEND 1 (INTRO):
DJ Lord Ron feat. Lil Dap & Young Luchiano "The Dream"/ DJ Premier & Bumpy Knuckles "My Thoughts"/ DJ LimeGreen feat. AKM of Cypha 7 "Sex, Drugs, Murder"/ DJ VR feat. Copywrite & Words "Cocky Type"/ Zoolay feat. Planet Asia "Haters & Dickriders"/ Bad Company "B.A.D.!"

SEND 2 (DJ Lord Ron, Mix 1):
DJ Lord Ron "DJ Leviathan & Will Nyce Addresses The State Of DJ Lord Ron's Mental"/ Boogie Down Productions "Jack Of Spades"/ Heavy D & The Boyz "Big Tyme"/ EPMD "So What Cha Sayin' "/ 3rd Bass "Wordz Of Wizdom"/ KRS-One "Sound Of Da Police"/ Gang Starr "Manifest (Remix)"/ Three Times Dope "Greatest Man Alive"/ Lil Dap "Guru Cash Flow"/ The Jimmy Castor Bunch "Potential"/ The Fatback Band "Gotta Get My Hands on Some (MONEY)"/ Tom Browne "Thigh's High (GRIP YOUR HIPS & MOVE)"/ Rick James "Call Me Up"/ Rick James & The Temptations "Standing On The Top"/ The Fatback Band "(Are You Ready) Do The Bus Stop"/ Rick James "In The Ghetto"/ Slave "Snap Shot"/ AZMA "Let Me Show You"/ Mark 7, Bin Grim, & YESKI "Air, Fire, Water"/ DJ Lord Ron feat. NC Abram "The Finest"/ Goodie Mob "Cell Therapy"

SEND 3:
Freestyle Session with Y.E.S.K.I. Anomiks, Prose, Bin Grim, MassKonfusion, Circus

SEND 4 (DJ Savior Payne):
K-Rob vs. Rammellzee "Beat Bop"/ The Beastie Boys "Car Thief"/ Too$hort "City Of Dope"/ Run DMC "Down WIth The King"

SEND 5 (DJ Lord Ron, Mix 2):
Y.E.S.K.I. "When It's Real"/ Y.E.S.K.I. "Things Changed"/ Five Steez feat. Tara Harrison "Shining"/ Show and AG "That Nigga Crazy"/ Tabernacle MCz feat. Big Arch "Decisions"/ Tabernacle MCz "Gotta Have It"/ Krumb Snatcha feat. Guru & Sonic "W.A.R."/ Bumpy Knuckles "Fake"/ Lord Zen "The Light"/ Longevity "Tantrum"
13 April 2012
Water issuing from the sky once again causing disorientation, dolor. We trot out our black, black souls. And Jan Hammer.
Playlist:
The Go-Betweens: The Sound of Rain
Feist: One Evening
Gwen Stefani: Serious
W.A.T.: Defreeze
Ice the Falling Rain: Lifes Illusion
Ryuichi Sakamoto: Rain
Andrew Bird: Gotholympians
Geneva Jacuzzi: Do I Sad?
Belaboris: Mita Lapsille Tapahtui
Joe Jackson: Steppin' Out
Faithless: Crazy English Summer
Current 93: A Gothic Love Song
Enno Velthuys: Ontmoeting 1
McCarthy: Keep an Open Mind or Else
Róisín Murphy: You Know Me Better
Rainbow: Kiss! Kiss! Disco!
Diana Est: Tenax
Reserve: Destination Pour L'Inconnu
D-Train: You Are the One for Me
Morena y Clara: No Llores Más
Alva Noto & Ryuichi Sakamoto: Aurora
Cindy Bullens: It's Raining on Prom Night
Kelly Hogan: No, Bobby Don't
Charli XCX: Stay Away
Kirsty MacColl: Berlin
Sonic Youth: Shadow of a Doubt
Jan Hammer: Crockett's Theme
Communards: Never Can Say Goodbye
Madonna: Causing a Commotion
The The: Giant
Nat'l Bag broadcasts live every Friday from 10am to noon (Pacific)