The Chill Room, 26 April 2013, at 10pm PST on killradio.org

128k. This program is over three hours long, so I split it into two 95 minute segments for easier use.
Stanley Kubrick's movie The Shining (1980) continues to fascinate after 30 years. A new documentary on perceived meanings/radical interpretations of the film, titled Room 237, is now playing the festival circuit. I know it's audacious, but I decided to do a close listen to the entire film soundtrack, and discuss this most extraordinary and densely packed masterpiece of modern horror.
I play an interview with Room 237 producer Tim Kirk and director Rodney Ascher

Most of the program is a close listen to the sound of the film The Shining (1980)
Based on the novel by Stephen King
Film written by Stanley Kubrick and Diane Johnson
Directed by Stanley Kubrick

Major Cast:
Jack Nicholson as Jack Torrance
Shelley Duvall as Wendy Torrance
Danny Lloyd as Danny Torrance
Scatman Crothers as Dick Halloran, the cook
Barry Nelson as Ullman, who hires Jack
Joe Turkel as Lloyd the Bartender
Philip Stone as Grady, the "butler"
This program continues in Deep in the Labyrinth 2

The Chill Room, 26 April 2013 at 10pm PST on killradio.org
This is the second half of a three hour program
Soundtrack: basic score by Wendy Carlos and Rachel Elkind, but Kubrick mostly used modernist music scores which he laid over each other (sort of like the Chill Room!), sound editing was done by Dino Di Campo, Jack Knight, and Bill Rowe.
The non-original music on the soundtrack includes:
Lontano by György Ligeti
Music for Strings, Percussion and Celesta by Béla Bartók
Utrenja — excerpts from the Ewangelia and Kanon Paschy movements and The Awakening of Jacob by Krzysztof Penderecki
Home by Henry Hall and the Gleneagles Hotel Band
Midnight, the Stars and You performed by Ray Noble and His Orchestra, with Al Bowlly

There are three musical interludes not from The Shining:
John Lennon-Instant Karma!
Grateful Dead-Cold Rain and Snow
Ryoji Ikeda-Headphonics

Jack: "I want you to like it here. I wish we could stay here forever ... and ever ... and ever."
The Chill Room, 20 April 2013, on killradio.org

160k, 90 minutes, becoming coherent
We live in such a time that not long ago we had a government which refused to listen to the people. Now we are unsure of what is heard by the govt and what isn't. Something coherent has been lost. The date of this show, April 20, is the anniversary of so many "issues." Hitler's birthday, the anniversary of Waco and Oklahoma City and Columbine. (It's also my dad's birthday.) So much of modern experience is beyond any kind of ordinary comprehension, because it is beyond our senses and systems. This program also signifies ten years in Iraq, which was an unjust illegal war. So what it does is use examples of favorite modernist musics (mostly ambient instrumentals but also containing songs) in order to call for revolution. Yes, a call for blood. Listen close or you'll miss it. Each musical piece is a "text" to add to all the other texts.
Set list (long ambient pieces overlapping & incomplete): Kevin Ayers, Robert Wyatt, Francois Bayle-"IT" (We Did It Again) / North Michigan Radio Scan / Led Zeppelin-Ten Years Gone / Robin Wood-The Incoherent Text (excerpt Hollywood from Vietnam to Reagan, read by your dj) / Caroliner-Legs Go, Mind Goes, Lungs Go (7") / Frank Dommert-Kiefermusik / Nurse With Wound-Cold / The Hassles-Hour of the Wolf / Merzbow-Another Crash for High Tide / Dusted-Childhood / Mort (sung in Spanish, can anyone help me identify this old salsa?) / Molotov Cocktail-New Year's Eve saxophones and UFOs / Asmus Tietchens-Linea / Donovan-Ferris Wheel / Underworld-Kittens / Cluster-Untitled / THU20-Der Holzweg / Sky Cries Mary-2000 Light Years from Home / MIJ-Two Stars / Yes-And You and I / The Haters-Journey into Pain / Frank Dommert-Das Leben in Sulz / Wendy Carlos-Beethoven's 9th (Scherzo)
This program presented for education and entertainment. Special thanks to live listeners, Louise, Alan, Dennis. Of course thank you to Jason Berthume for holding onto this one for me. A special salute to Richard Lippe. Thanks to killradio.org and radio4all.net. Comments comments comments.
Now, what is this madness that invades your fair repeating of your soul? Is it the hour of the wolf?
The Chill Room, 29 March 2013 at 10:00pm PST on killradio.org
192k, 130 minutes, an environmental trip with the Firesign Theatre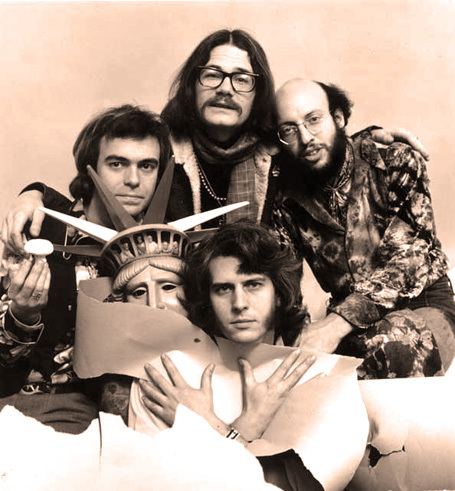 I admit up front that this is a very dense, verbal show. What the Firesign Theatre did with humor and imagination had a profound effect on my thinking and writing. What I wanted to do tonight was take what is a little known work by the group, their final Columbia lp, In the Next World You're on Your Own, and create a conceptual context for a lingering listen, using earlier materials to set the stage (and provide overlapping connections). That context is a form of psychedelia. But this trip goes beyond humor. It's social comment, American history, a future of Cops-like tv shows, insane game shows, a baseball game, the Academy Awards, and media terrorism. The phrase "Eat flaming death, fascist media pigs!" comes from here. Be part of the future, and listen closely.
Set list (overlapping and somewhat incomplete): Firesign Theatre (FST) recordings from 1968 to 1976, in collage. FST-Temporarily Humboldt County / Nurse With Wound-Echo Poeme Sequence No. 2 / Gil Melle-The Andromeda Strain / Led Zeppelin-D'yer Ma'ker / FST-Station Break (45 from 1969) / BBC Dreams Doc (Delia Derbyshire)-Seas / Patsy Cline-You Made Me Love You / Wax Tailor-Que Sera Sera / FST-Le Trente-Huit Cunegonde / Die Trip Computer Die-The Iron Dream / Camouflage Danse-Mad Love (excerpt) / Pink Floyd-Chapter 24 (mono mix) / David Essex-Rock On (7" at 33rpm) / Grindhouse-Zombie Attack (March 1985 performance at Pyramid Club NYC, written and directed by your dj) / FST-Ralph Spoilsport Yes I Will Yes / 4 Tops-Bernadette / Bill Withers-Use Me / Loo & Placido-Safari Love / ToTom-Make It in the Morning / FST-Police Street / SRC-In the Hall of the Mountain King / Van Dyke Parks-Come to the Sunshine / Traktor Carpenters / FST-We've Lost Our Big Kabloona
With special thanks to Greg Bishop, Mark Dolnick, Rich Garibaldi, the Firesign itself, my live listeners, and to killradio and radio4all.net. The Vietnam War has been over for 40 years tonight. Comments hoped for. It's terrific to hear you laugh. Photo (clockwise from top): David Ossman, Peter Bergman, Phil Austin, Philip Proctor.
Change returns success, going and coming without error. Action brings good fortune. Sunset, sunrise.
The Chill Room, 15 March 2013, at 10pm PST on killradio.org

192k, 105 minutes, Trouble Every Day and We're Only In It for the Money
A follow up on Frank Zappa, featuring a segment on Frank's greatest straight rock song Trouble Every Day, and his extraordinary third album We're Only In It for the Money, with alternate mixes, test edits, and live versions of the material. So a deep listen to some more of Frank's early days.
Set list: All tracks by Frank Zappa and the Mothers of Invention unless otherwise noted. Trouble Every Day (Freak Out) / Nurse With Wound-Subterranean Zappa Blues_Your Saxy Baby / Arthur Barrow & Robert Williams-Trouble Every Day / More Trouble Every Day (Roxy & Elsewhere) / The We're Only In It for the Money Test Edit (1967 EMI Metal Acetate) / Concentration Moon (We're Only In It for the Money) / Concentration Moon (alternate album version) / What's the Ugliest Part of Your Body_Mother People (pitch corrected) / Absolutely Free_Flower Punk_Hot Poop_Nasal Retentive Calliope Music_Let's Make the Water Turn Black (alternative album versions) / Let's Make the Water Turn Black (6 Oct 1968 Beat Club TV show UK) / You're Lonely Little Girl_Take Your Clothes Off When You Dance_What's the Ugliest Part of Your Body (19 April 1975 Capitol Theater, Passaic NJ)
With thanks to Tom Brown, killradio.org, Rhino Records, radio4all.net, my listeners. Presented for entertainment and education.

Get H.T. Brown's Confessions of a Zappa Fanatic on Amazon. Just search for Zappa Fanatic!
All your children are poor unfortunate victims of lies you believe. A plague upon your ignorance that keeps the young from the truth they deserve...
135 Chill Rooms in one place
The Chill Room, 8 March 2013, 10pm PST on killradio.org.

192k, 135 minutes, the Zappa set I've always wanted to hear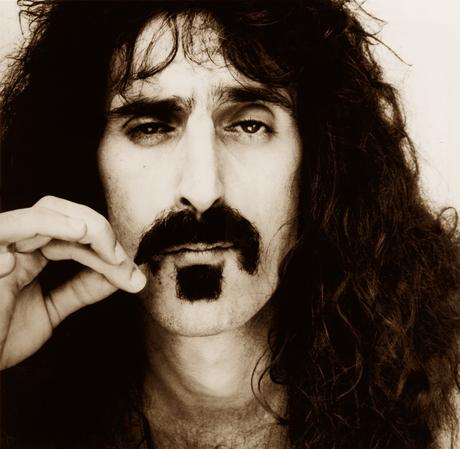 My special guest is H.T. (Tom) Brown, old friend and co-worker. Tom has been a major Frank Zappa fanatic since 1966. He compiled the Zappa Beat The Boots box sets for Rhino Records. His house in Venice was known for years as the Zappa Museum! And he has published Confessions of a Zappa Fanatic, his second book. I invited Tom to sit in with me and play his ultimate Zappa music set, and this is it. Arf! Includes tributes from Zappa musicians and friends, and some amazing music that has never even been booted. Over two hours of wonder from the guy who said he didn't want to be remembered. But it's not up to him.
Set list: All tracks by Frank Zappa and/or the Mothers of Invention unless otherwise noted. Frank's Introduction / It Can't Happen Here (Mothermania edit) / The Rudy Schwartz Project-Frank / Don Preston (with special guest Jimmy Carl Black)-What Was Zappa Really Like? / The Penguins-Memories of El Monte (written by Frank with Ray Collins) / Finnish TV interview from 1974 / Wipeout (6 Dec 1968 Shrine Exposition Hall, Los Angeles) / Help I'm a Rock (25 Oct 1968 Royal Albert Hall, London) / Arthur Barrow & Robert Williams-Trouble Every Day / Brown Shoes Don't Make It (Absolutely Free) / You're A Lonely Little Girl (45 mix 1967) / Dog Breath (45 mix 1969) / Village of the Sun_Echidna's Arf (Of You)_Don't You Ever Wash That Thing? (Roxy LA Dec 1973, from Roxy and Elsewhere) / Dumb All Over (You Can't Do That On Stage Anymore, Vol. 1) / Larry Fischer at the Movies / Any Downers (from the 75-76 band, unreleased) / Cruising for Burgers (alternate version 1977 unreleased) / Peaches En Regalia (Hot Rats) / Ensemble Modern-Hyperprism (Varese track produced July 1993 by Frank, his last production) / 1993 Today Show interview with Jamie Grangel / Strictly Genteel (Finale from 200 Motels)
Tom's book Confessions of a Zappa Fanatic is available on Amazon. Search for the title (or just "Zappa fanatic") and you will find it.

TV dinner by the pool, I'm so glad I finished school.
Be a loyal plastic robot for a world that doesn't care.