The Chill Room, 7 December 2012, 10:00pm PST on killradio.org
128k, 2 hours, a devotion to the Velvet Underground
"Modern music begins with the Velvets, and the implications and influence of what they did seem to go on forever." - Lester Bangs, 1971
A survey and history of the Velvet Underground, chronologically arranged. Not really designed for beginners, this is a listen into the darkness AND the light.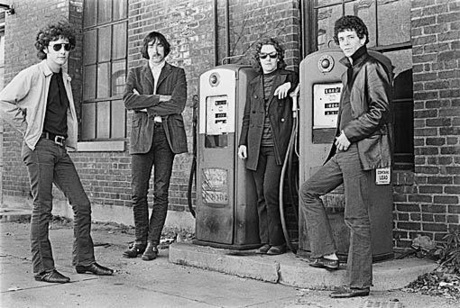 Setlist (all performances by the Velvet Underground):
1966: Venus in Furs_Cracking Up (Lou is reciting the lyrics while Sterling and John play) / The Evolution of a Riff: There She Goes Again (rehearsal with the trio and with Nico) / I'll Keep It with Mine (rehearsal with Nico) / Playing at the Dom and Recording / European Son (rehearsal) / Heroin (Scepter studio version) / I'm Waiting for the Man (Scepter studio version) / I'll Be Your Mirror (Scepter studio alternate mix)
1967: I Heard Her Call My Name (alternate mix)
1968: Beginning to See the Light (alternate mix)
1969: Sweet Jane / New Age / White Light White Heat (Matrix Club SF November 1969)
1970: Sweet Jane (original studio version) / Train Round the Bend_Oh! Sweet Nuthin (Second Fret Club in Philadelphia May 1970) / Oh! Sweet Nuthin (from Loaded)
Loaded sold even fewer copies than the first three albums, by the way.
Photo: Doug Yule, Sterling Morrison, Maureen Tucker, Lou Reed.
With thanks to Richie Unterberger, Mr Wilkinson, Clinton Heylin, my live listeners, killradio.org, wfmu.org, and radio4all.net. Comments welcome, please! If you know of any other Velvets tapes out there, tell me about them.
Further listening: Velvet Crush, a 2007 Chill Room on the Velvets, featuring the Cale era, and including the infamous Sweet Sister Ray from La Cave in April 1968, is available at http://www.radio4all.net/index.php/program/21222.
Ohhh sweet rock and roll, it'll cleanse your soul.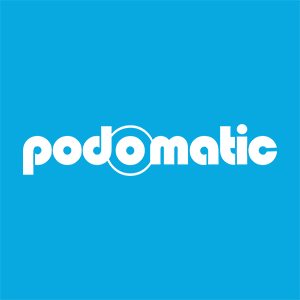 Welcome to "At The Show" with your host Bob.
This week we delve into TIME.
Show 25 Set list
01 - Stephen Hawking - Time Traveler's Party 1:32m
02 - Pink Floyd - The Bell Gets Louder, Yankee Stadium, NY - 1994-06-11 - Time 6:54m
03 - Alan Parsons Project - Somewhere in Europe - 1994-05 - Time 5:18m
04 - Hans Zimmer - Inception Premiere, London - 2010-07-08 - Time 4:51m
05 - Dire Straits - Once Upon a Time In The West 5:14m
06 - Glen Campbell - BBC Studios, London - 1975 - Time In a Bottle 2:41m
07 - Chicago - Caribou Ranch, CO - 1973 - Does Anybody Really Know What Time It Is? 2:37m
08 - George Carlin - Tony Orlando & Dawn Show - 1976 - Time For George 5:35m
09 - Poco - Belcourt Theatre, Nashville, TN - 2004-05-20 - Where Did The Time Go? 1:09m
10 - Sandy Denny - The BBC Sessions 1973-11-09 - Who Knows Where The Time Goes 5:35m
11 - Vangelis - Cosmos - Space Time Continuum 4:59m
12 - Rocky Horror Picture Show - Time Warp 5:35m
13 - Bonnie Raitt - Wiltern Theater, Los Angeles, CA - 2005-11-21 - Nick of Time 5:46m
14 - Jackson Browne - Running On Empty, on the bus somewhere in NJ ? 1977-09-08 - Nothing But Time 3:17m
15 - Star Trek First Contact - Deanna Troi on Time :09m
16 - The Guess Who - Toronto - 2003 - No Time 5:07m
17 - Led Zeppelin - BBC Sessions - Playhouse Theater, London - 1969-06-27 - How Many More Times 11:51m
18 - The Zombies - Radio Arvyla, Greek TV show - 2011-04-05 - Time Of The Season 4:11m
19 - Rolling Stones - Hampton Coliseum, VA - 1981 - Time Is On My Side 3:44m
20 - Moody Blues - Seattle Center Coliseum, Seattle, WA - 1979-05-25 - Twilight Time 3:25m
21 - Bob Dylan - Tomorrow is a Long Time 2:58m
22 - James Taylor, Carly Simon & Graham Nash ? No Nukes Concert, Madison Square Gardens, NY - 1979-08 - Times They Are A-Changin' 2:59m
23 - Crosby, Stills & Nash - Universal Amphitheater, LA - 1972 - Long Time Gone 5:13m
23 - Bruce Springsteen - Dublin, Ireland - 2006-11-17-19 - Long Time Comin' 4:48m
24 - Eagles - LA Forum - 1976-11-22 - Wasted Time 5:01m
25 - R. Carlos Nakai - Echoes of Time 3:51m
26 - Enya - World Music Awards - 2001 - Only Time 3:34m
27 - Little Feat - Rockefellers, Houston, TX - 1988-08-15 - Time Loves a Hero 4:35m
28 - Afro Celt Sound System - Festival Interceltic Lorient, Brittany, Fr - 2012-08-08 - Further in Time 5:39m
30 - Deep Purple - BBC Unplugged - Child In Time 2:21m
31 - Bill Medley & Jennifer Warnes - Top Of The Pops - 1987 - I've Had The Time of My Life 4:56m
32 - Chambers Brothers - Night at the Fillmore 20th Anniversary Special - 1986 - Time Has Come Today 5:29m
33 - Leonard Cohen - O2 Arena, London - 2008-07-17 - Closing Time 6:15m
34 - Green Day - Time of Your Life 2:19m
Podcast for this show available at http://www.radio4all.net/index.php/program/64660

or

http://www.radio4all.net/index.php/contributor/4614
The Chill Room, 14 October 2011 at 11pm PST on killradio.org
128k, 100 minutes, the life and music of Phil Ochs
In these days of the Occupy Movement, when the people have been aroused to take back the world from monied interests, I think it's time to give a listen to one of this country's great symbols of protest, Phil Ochs.
A Phil fan since the 1960s, I had only seen a few seconds of film of Phil performing -- until Kenneth Bowser's documentary on Phil called There But For Fortune revealed there are hours of films and audio of Phil not known. Taking excerpts from the film and combining them with biographical information and a deep listen into Phil's amazing body of music, the inspirational story of this firebrand is compelling and sad, but necessary.
All performances unless otherwise noted by Phil Ochs. Audio excerpts from the film There But For Fortune by Kenneth Bowser (2010), including the voices of Phil Ochs, Michael Ochs, Sonia Ochs, Meegan Ochs, Billy Bragg, Larry Marks, Jerry Moss, Tom Hayden, Christopher Hitchens, Pete Seeger and others.
Set list: When I'm Gone / Draft Dodger Rag / Changes / Cross My Heart (single mix) / Outside of a Small Circle of Friends / Joe Hill / The War Is Over / Joan Baez-There But For Fortune / Love Me, I'm a Liberal / When In Rome / The World Began In Eden and Ended in Los Angeles (Vancouver BC, 13 March 1969) / Pleasures of the Harbor (Carnegie Hall, NYC, 27 March 1970) / Chords of Fame / Bwatue (Phil's last single, recorded in Kenya 1973 with the Pan African Ngembo Rumba Band, the title means "canoe") / The Death of Allende and the Friends of Chile Benefit 1974 (from There But For Fortune) / No More Songs
The music in this program comes from Phil Ochs' Elektra and A&M albums I Ain't Marchin' Anymore, Phil Ochs in Concert, Pleasures of the Harbor, Tape from California, Phil Ochs' Greatest Hits, and Gunfight at Carnegie Hall. "Bwatue" comes from a single. Rhino released the There and Now Live in Vancouver 1968 (sic) album. Biographical material used in the program comes from the McMan's Bipolar Web and the Google Biography Site (some material read directly from these sites).
With special thanks to Michael Ochs, the film There But For Fortune, and my listeners.
The rebels they were here. They came beside the door. They told me that the moon was bleeding. Then all to my surprise, they took away my eyes, and it seems that there are no more songs
On Monday, October 3rd, I had producer and MC, Nasa aka Adam Warlock as my special guest from Staten Island, New York via skype. He spoke about running his own record label Uncommon Records since 2004 and the current challenges to independent hip hop in the current climate. Nasa also sent over some new music from the label showcasing its progressive hip hop sound. It is a really informative interview with lots of behind the scenes insights.
More from Uncommon Records
The news show of science and reason!
What we have here is this week's Weekly News in Review from harpers.org (and the killradio news team).
This week as well as the latest news, I talk about how the misery of the world today is partially the result of birth pangs as we transition from a Type 0 civilization to a Type 1 civilization. Which means we have to get rid of the things that divide us.
And what divides us most?
Politics?
Religion?
Give it a listen, and think for yourself, no one should ever have to think for you.
If you listen to this news, consider sending me a comment by writing to chillroom@gmail.com.
The entire Bush Administration belongs in prison for their traitorous anti-Constitutional behavior.
is it time for a commercial yet?
The news show of science and reason!
What we have here is this week's Weekly News in Review from harpers.org (and the killradio news team).
While there is a brief commentary regarding entertainment, this weekly news pretty much sticks to the news.
Will you?
If you listen to this news, consider sending me a comment by writing to chillroom@gmail.com. I will answer them!
The entire Bush Administration belongs in prison for their traitorous anti-Constitutional behavior.
Enough or Too Much.
dozens of news and music shows from dj bennett